Those of us who attended the New Bern meeting on the petition will remember the significant number of speakers against the petition with affiliation to the Coastal Carolina Taxpayers Association.
The CCTA is a "TEA PARTY" organization. Local to New Bern, they are affiliated with Rep. Michael Speciale.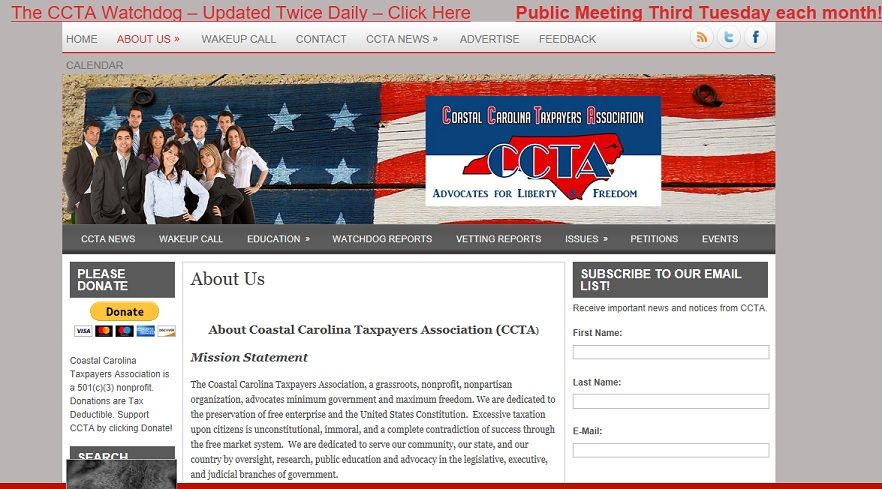 Those of us supporting sustainable fisheries management in NC can now see a few dots connected on why a taxpayer group would be fighting so hard against much needed and long overdue measures to protect our critical habitat nursery areas. Trawling in these important primary and secondary nursery areas has devastated our economically important inshore finfish and forage species.
We are patiently waiting for Governor Cooper to name his appointments to the MFC and to hire a new director for the DMF. We trust that the Governor and his administration both understand the need for sound management and are dedicated to placing the best candidates to accomplish those goals.
I must say that the CCTA goals, on many issues and not just fisheries, appear to be at opposite extremes of the Governor's goals for a successful NC.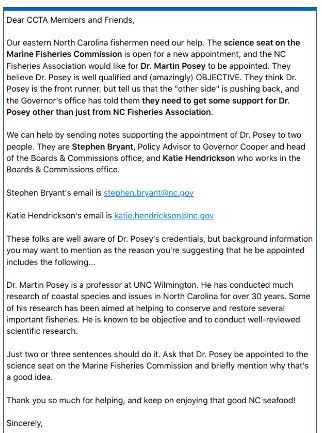 AS ALWAYS, for the NCFA (Jerry Schill) it is about "HARVEST"!
"Thank you so much for helping, and keep enjoying that good NC seafood!"

Jerry doesn't support sustainable resource management that floats all boats- commercial, recreational and conservation. The NCFA's fight is to keep commercial fishermen fishing with as few restrictions as possible. It's a Tragedy of The Commons, get "mine" today before it's gone tomorrow.
I am sure Martin Posey is a fine gentleman. Dr. Posey will have a direct conflict of interest in serving on the commission. Posey is in the $10-million club at UNCW for grants. His job success at UNCW is directly tied to his ability to fund research for himself and his department. Many of those research grants have and will come from the DMF, SeaGrant or other such entities.

Until the paradigm changes, and it will, Posey will be under tremendous pressure to not only vote the "Division's Vote" but to present the "Division's Science".

Dr. Posey will have a direct conflict of interest on almost every vote the commission will consider due to his department's dependence on grants from the DMF, SeaGrant, etc.

The past shows there exists an incestuous relationship between the commercial fishing industry, SeaGrant, NCDMF, NCDA&CS, APNEP, NC Coastal Federation and our research universities that is preventing proper resource management. Everyone is scratching each other's back to promote and defend the use of unsustainable gears and practices in NC. Too many employees of these agencies have made careers out of supporting unsustainable fisheries. There appears to be a lot of job security in studying and trying to manage the unmanageable- supporting and trying to manage the use of unsustainable gears and practices fishing on depleted and overfished stocks.
In defense of a few of individuals in those agencies who privately support sustainable fisheries management, they did need to work. Marc Basnight and Beverley Perdue made it clear that management would "keep the NCFA happy", "or else", literally. The McCrory administration tried to make positive change, and did, but was constantly blocked to a large degree by the Republican Senate and few House members like Bob Steinberg. Without proper shielding from the direct influence of guys like Sen. Harry Brown and Sen. Bill Cook, the Division was still being managed by politics to support a handful of influential coastal fish dealers(NCFA) and not science.

One only has to look at how the majority of the AC Science Seats voted in New Bern on the petition to see that the system is not working as intended...actually it probably is working as intended. FRA-97 was written under Basnight. While great looking on paper, the Act has provided a smoke-n-mirrors game giving an illusion of proper fisheries management when in actuality the process has been stacked against the resource, commercial fishermen and recreational anglers, and in favor of the large fish dealers.

In a recent conversation on this issue I heard the recollection of a conversation that was held with Allyn Powell (former NCMFC Science Seat). In that conversation Powell stated that he rarely opened his MFC briefing book to review the issues before voting. When asked how he determined his votes Powell replied- "I just voted for the Division's recommendation". Dr. Powell was keeping the NCFA "happy", "or else". Powell was hand-picked by Bradley Styron (NCFA) as the Science Seat.

We know where that has taken us- stocks that are overfished, depleted or have statuses of concern with truncated age/size structures and declining abundance.
The definition of insanity is doing the same thing over and over and expecting different results. Einstein

...but Jerry Schill doesn't want different results. The NCFA wants to keep the commercial industry fishing at any and all costs to the health of the resource, and with as many participants (in state and out of state) as possible.
The NCFA (CCTA) fight isn't about protecting the people of NC's plate of seafood. The majority of all seafood landed in NC is shipped out of state to the Northeastern urban markets in Baltimore, New Jersey and NY.
The majority of seafood eaten in NC is imported as it is in all of America (90%). Wild-caught local seafood cannot meet demand. Stop imports, which the NCFA is fighting to do, and seafood WILL disappear off the majority of people's plates and become a very expensive delicacy for the rich.

http://ncseagrant.ncsu.edu/ncseagrant_docs/products/2010s/supply_chain_analysis_nc_commercial_fishing.pdf

The NCFA isn't about protecting individual fishermen or the consumer's ability to buy reasonably priced seafood.
The NCFA's (Jerry Schill's) fight is to protect a handful of large dealers' ability to buy cheap seafood and wholesale it at big profits to out of state markets.

...and do so in an industry driven by cash sales that creates a lot of money to be used for influence and other means...


Edited by Rick - 17 November 2017 at 4:58pm