I've taken off the last week of Oct or first week of Nov as a vacation fishing week for the last several years. I've lucked out on the weather being absolutely perfect...until this year. The wind gods were not kind for the places I wanted to fish for a good part of the week. The nearby tucked away spots that hold fish looked like a Walmart parking lot and I'm way past fighting a crowd to fish.
Thursday was a great day to fish with a good friend and the wives on his new Blackjack...and boy was it fun.
We fished several creeks, bays and points off the Neuse picking up trout and drum in all of them. Two flounder were safely released.
On the drum, I don't know what you all are seeing but I'm just not seeing the slot drum this year. I managed one slot for the cooler and it was my first for the year. I'm catching a pile of 12" to 16" fish, so next year should be good if the strike netters don't decimate them this fall and winter. The anchored gillnet restrictions tied to the flounder closure should allow a lot of these fish to make it to next year.
The day started out picking up a few fish here and there with a lot of moving around helping that new boat learn the lay of the land. We moved to the last point on the tour at about 3:45 as the wind shifted from the NW to the South and with it came the flies and mosquitos...and an epic late afternoon bite.
Z-Man paddle tails or curly tails with a hint of pink or dark green were the ticket for 18" to 20" trout with multiple hookups happening at the same time. A Gulp new penny shrimp under a popping cork seemed to be irresistible to the puppy drum.
Fun was had by all until the sun started to drop below the distant tree line and that's when that new boat shined. My skiff with a 115 would have been a long bumpy hour ride home in the dark but those 250 horses cut the time in half, and the bumps, with us hitting the dock just at dark.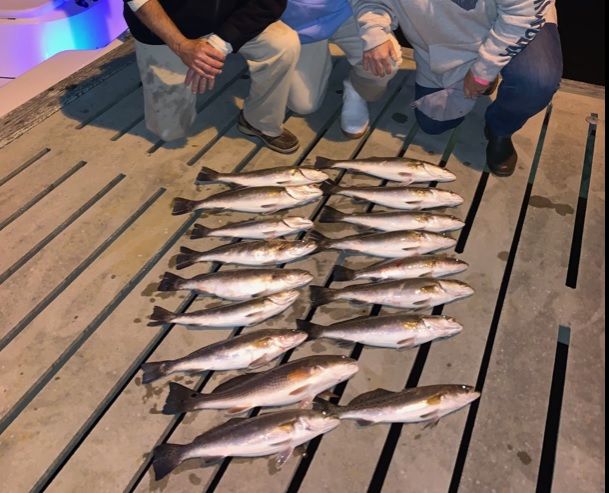 The cooler weather also made for several enjoyable evenings watching the sunset set by the wife's new firepit-
Don't tell her, but I think mine at home in Goldsboro looks better-


Edited by Rick - 12 November 2019 at 9:21am