So, let's look at a subset of the data above- coastal fishing piers.
Boy do I remember fishing with my father and grandfather on the Emerald Isle Fishing Pier back in the early 1960s.
In the 2012 NCDMF report, A Social and Economic Profile of Ocean Fishing Piers in North Carolina, DMF employee John Hadley found that NC Ocean Fishing Piers created an annual economic impact of $152-million.
The total estimated economic impact to the state economy of ocean pier fishing trips is approximately $151.7 million. This fishing activity supported 1,746 jobs and led to over $48 million in labor income. According to the model, the industries most affected were lodging, amusement and recreation, food and beverage, gasoline, real estate, sporting goods, wholesale trade and commercial fishing (bait). This estimate is based on the total number of ocean pier trips taken in 2010 and the average expenditures per fishing trip obtained from the survey. The Marine Recreational Information Program (MRIP) estimates coastal recreational fishing effort throughout the year in North Carolina. According to MRIP data, in 2010 anglers took 1,186,293 ocean pier fishing trips. This led to $138,855,638 in estimated total trip expenditures.





This old photo shows the economic benefit of a strong "spot run" on a central coast fishing pier-
The lowly and "ubiquitous" Spot!
Spot was not included in NC's nursery area classification studies. Juvenile abundance of spot was considered so "ubiquitous" in the 1970s and early 1980s during designation of critical habitat nursery areas that inclusion would have "designated all internal waters as important nursery areas".
"Spot was omitted because it is so ubiquitous in the nursery areas of the Pamlico Sound estuarine complex that its value in creating station groupings was minimal." Classification of Pamlico Sound Nursery Areas: Recommendations for Critical Habitat Criteria- Project No. 89-09, Elizabeth B. Noble and Dr. Robert J. Monroe, NC Department of Environment, Health and Natural Resources, Division of Marine Fisheries, February 1991
What did the Hadley study find as one of the two most important species to pier profitability?

Additionally, the top five species that anglers indicated targeting off of ocean piers were spot, bluefish, flounder, Spanish mackerel and sea mullet. This closely matches the species that pier operators felt were most important to their business, which were spot and sea mullet, followed by bluefish, flounder and king mackerel.



What did Handley's research show was the greatest concern of ocean pier anglers?
Overfishing was of great concern to both parties, as it was often expressed that recent runs of certain commonly targeted species were not as strong as they had been historically. The most common species mentioned was spot, where anglers often said that both size and quantity have diminished.



What was the conclusion of Hadley's study?
Continued preservation and expansion of coastal fish stocks is also vital to the long term sustainability of ocean pier businesses. The estimated $151.7 million economic impact that can be attributed to ocean fishing piers is a sizable and noteworthy contribution to the state economy of North Carolina. These impacts are largely felt in coastal communities, which is particularly important during a time when other economic engines such as real estate and development have slowed. With the majority of respondents indicating that the sole purpose of their trip to the coast was to go pier fishing, it is clear that these fishing sites represent an important draw to coastal communities and serve as popular sources of recreation for anglers of all ages and backgrounds.




The graph below shows recreational angler Spot landings in NC. We have lost this fishery!
Commercial landings confirm the demise of Spot-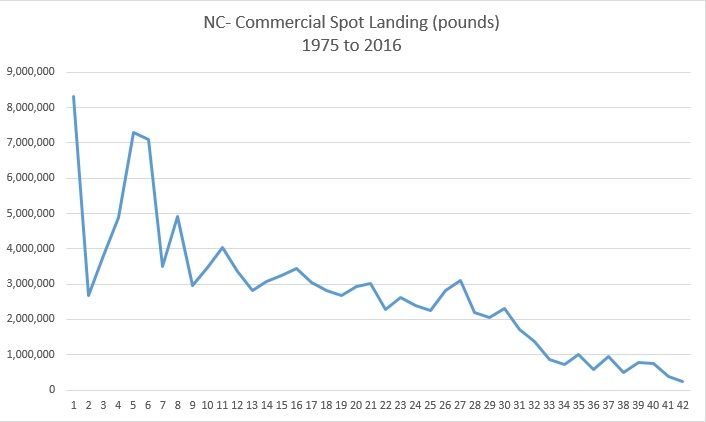 What doesn't NCDMF get?
Today, why can't NCDMF look at their own studies and data to determine the potential long-term value of recovered recreational fisheries when they could value those fisheries in 2010 and 2012?
What is blindly obvious and missing within the NCWF Petition for Rule Making draft fiscal note's 171-pages of listed "unknowns", cherry-picked studies and obfuscations are two very simple facts.
1- These fisheries, if rebuilt, are worth $100s of millions of dollars to the citizens of NC and our coastal communities.
2- If spot, croaker and weakfish were assessed at the state level, reducing juvenile discards in the shrimp trawl fishery is the only place you are going to get any meaningful reductions in total catch- targeted landings + discards in the directed and non-directed (bycatch) fisheries. The populations of all three species, all with truncated age structures, have fallen such that targeted commercial fisheries are a small fraction of the past, or closed.

The Fiscal Draft obfuscated about natural mortality from spiny dogfish, striped bass and bottlenose dolphin predation, population shift due to the multidecadal oscillation and the benefit of plowing our state's undesignated critical habitat estuarine nursery bottoms.

Truly, where are you going to get any reductions needed for re-building these stocks if not by reducing non-directed discards (bycatch) in the shrimp trawl fishery?

The latest stock assessments for both Croaker (2017) and Spot (2017) found-
The majority of annual removals for Atlantic Croaker were discards from the shrimp trawl fishery... Annual discards from the shrimp trawl fishery ranged from 82,040 to 513,801 metric tons with a long term mean of 179,873 metric tons. Shrimp trawl bycatch accounted for 81‐99% of annual Atlantic croaker removals and averaged 91.6% of all removals.




All major sources of removals of Spot were thoroughly described including: discards in the shrimp trawl fisheries, commercial landings, and recreational harvest. Discards from the shrimp trawl fisheries accounted for 31-70% of annual removals, commercial landings for 10-40% most years, while recreational harvest typically

accounted for approximately 10% each year. The remaining sources of fishery removals were typically 5% or less of total

annual removals over the last 20+ years (e.g., scrap fishery).
You surely are not going to get the reductions needed for recovery from the directed commercial fisheries. Those fisheries are suffering from years of mismanagement.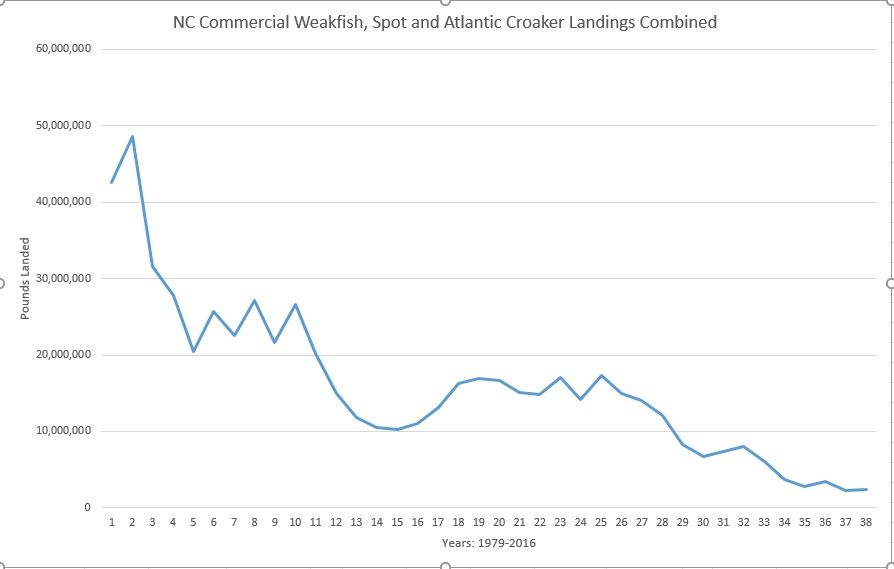 Edited by Rick - 12 July 2018 at 8:10am