NC Catch is fighting the NCWF petition anyway they can with the end game being to keep industrial steel hulled ocean going trawlers working in the critically important nursery habitat areas for spot, croaker, gray trout, summer flounder, southern flounder and blue crab within the Pamlico Sound complex.
This is shrimp trawling on the Pamlico Sound-
http://www.youtube.com/watch?v=WLl4GSZLqGU
Below would be funny if it wasn't pathetically real-
http://www.facebook.com/NCFisheriesAssoc/posts/1585524308136754
Join Outer Banks Catch data-raiser!

Every Man's Spot and Croaker Fishing Tournament

No entry fee or age limit; must be caught in North Carolina waters in October!

This event is a data-raiser to collect data to use for science focusing on spot and croaker. All weights and lengths will be shared with the NC Division of Marine Fisheries.

Tons of prizes are being donated including Outer Banks get-aways, tackle items, gift certificates and more. Prizes will be awarded for the heaviest and longest of each species as well as the most caught of each by an individual fisherman so enter often.

Fish caught in North Carolina but outside the Outer Banks Catch area in northeastern North Carolina may be entered by having a local weigh station confirm weight and length. Use a cell phone to take a picture of the completed entry form and a photo of the fisherman or fisherwoman holding the fish. Email the pictures to spotcroakertournament@gmail. A different entry form must be submitted for each catch entered.

Entry forms for fishermen and posters for businesses to display can be downloaded from both the Outer Banks Catch Facebook page as well as the Spot and Croaker Tournament Facebook page.

Pictures of fishermen and their catches will be shared on Facebook pages but sizes will be kept secret until the first week of November when prizes will be announced.

A petition filed in early 2017 with the North Carolina Marine Fisheries Commission calls for severely limiting shrimp trawling and also calls for an increase in recreational size limits for spot and croaker. If approved, the new limits would be eight inches for spot and 10 inches for Atlantic croaker.

Some tackle shop owners say that the increase in size limits will hurt their businesses because those sizes are larger than that of most spot and croakers landed.

The state record for croaker is five pounds caught in 1981 near Oregon Inlet by Daniel Graber. The length, calculated from a conversion chart supplied by NC Division of Marine Fisheries, estimates the length at 23 inches.

And the state record for spot also was caught in Dare County. Hubert Basnight caught a 1 lb. 13 ounce spot in 1979. And the length estimated through the use of the conversion table for the record-setting spot is approximately 15 inches.

Spot and croaker belong to the Sciaenidae family which includes drums and weakfish. The family name is indicative of the repetitive sounds that they make. While some in this group of fishes only make noise during mating season, croakers make sounds year round.

Croakers make the sound by oscillating their swim bladder. Some scientists think the reason that they 'croak' year round is to communicate to others that there is danger or as a way to locate other fish when in murky waters.

Both fish swim in schools so catching one often leads to catching more.

Croakers have faint stripes across its back and spots have a spot on the side near the front of its body.

Both are favorite fish for pay frying. (I think they meant "pan frying", but there's plenty of money changing hands to keep NC's unsustainable trawl and gillnet fisheries going- certainly a freudian slip .)


And for those in a giving mood – donate croakers to science!

The N.C. Division of Marine Fisheries collects information about fish stocks in state waters. Information, such as age, size and reproductive potential, is used to assess the number of fish in the population. Age information about fish is collected by analyzing scales or hard body parts, such as otoliths (ear bones) and spines, for annual growth rings. By determining the age of a fish, biologists can begin to get an idea about the age-structure of the population and the growth rate of the fish. In a healthy population fish of all ages are represented, while missing age classes may indicate a problem with that stock. This information is then used in stock assessments and fishery management plans to help officials better manage the fisheries resources of the state.

To learn more about the carcass collection program and where and how to donate your fish, visit http://portal.ncdenr.org/web/mf/carcass-collection

For more information about Outer Banks Catch, visit the website at outerbankscatch.com. For questions about the fishing tournament, send email to spotcroakertournament@gmail.com




For those of you too young or not involved at the time, it was common to catch 2-lb croakers in the Pamlico Sound and it's tributaries back in the 70s and early 80s.
This is what a croaker can look like-
This is the size of spot and croaker that are killed by the hundreds of millions in NC's shrimp trawl fishery. They have to live to grow!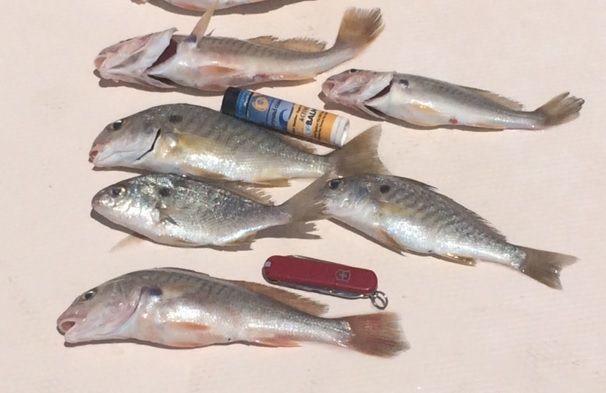 If you want to see what the Pamlico Sound held in 1980, check out this link to Michael Halminski's website and his July 22, 2011 post "The Catch". His photos of historical fishing effort on the Outer Banks are educational.
http://photoblog.michaelhalminski.com/?s&paged=19
I asked Mike in an email when his photos were taken of the long haul croakers and this was his response-
Hi Rick,

Those were taken a while back, 1980.

There were a lot of big croakers around.

Fishing hasn't been quite like that since.

Mike
For those in the know....tell me when the industrial sized trawlers showed up in the Pamlico Sound.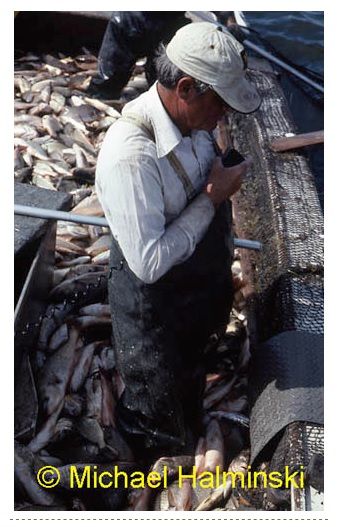 Credit and thanks for the above photo given to Michael Halminski and shared as an educational tool to show the size and abundance in 1980 of Atlantic croaker in the Pamlico Sound.


Edited by Rick - 03 October 2017 at 11:13am