Heidi Jernigan Smith doesn't look good at all wearing false indignation.
For those there or listening to yesterday's MFC meeting, Heidi Jernigan Smith was one of about six people who gave public comment. Smith was passionate, almost emotional, in her comment with a direct vilified tirade against Commissioner Laughridge.
It seems Smith wrote a letter to all commissioners and received two responses in return, one from Commissioner Rose and one from Commissioner Laughridge. The facts of the matter show that Ms. Smith used her official Carteret County school system email address to write her letter to the commissioners. While Ms. Smith indicated that Commissioner Rose's reply was cordial and appropriate, Smith felt "threaten and intimidated" by Commissioner Laughridge's reply. Laughridge asked Ms. Smith if her email was a personal submission or an official Carteret County School system submission, a reasonable question. Ms. Smith feigned personal offense that Laughridge was trying to "intimidate" her given the fact that she had inappropriately used her official school system email address for non-official business.
Let's really look at who's trying to intimidate whom!
First, Heidi Jernigan Smith didn't come clean with all of the facts in this matter. It's standard practice and decorum at all public comment periods for speakers to identify themselves and state any official positions that they hold in organizations with fisheries related interest. David Sneed (CCA) and David Knight (NCWF) followed the rules of decorum, and honesty, when they gave public comment.
Heidi Jernigan Smith is President of NC Catch and failed to identify herself as such.
Why?
It was a pure intimidation attempt against Commissioner Laughridge. Identifying herself as President of NC Catch would not be as strong a message as being just an "aggrieved" citizen.
Now, let's look at the 2nd thing Heidi Jernigan Smith did for the purpose of intimidating Commissioner Laughridge. She is part of the commercial fishing groups that have requested all emails from select commissioners under FOIA. She personally went through those emails looking for her emails sent to Laughridge to see if he had provided those under the FOIA request.
Pure intimidation.
Status quo for the commercial fishing industry- Deny, Defend, Deflect, Delay, Intimidate, Delay, Intimidate, Delay....
PLEASE- call, write, email, personally go see your state and federal representatives. We need all tax funding for NC Catch and Sea Grant stopped.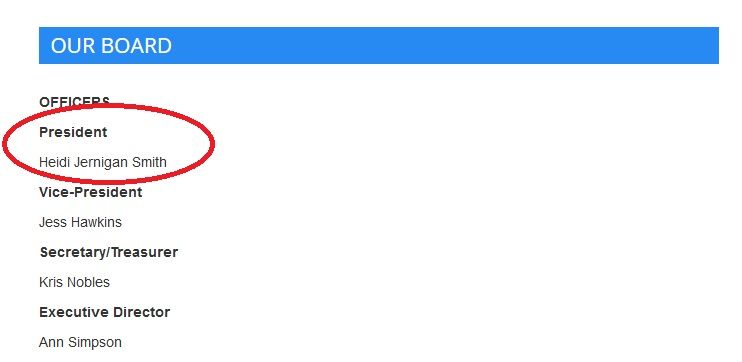 From my previous post on January 25th, 2017
http://www.ncwaterman.com/forum/forum_posts.asp?TID=79991&title=nc-catch-board-members-what-an-incestuous-bunch
Another example of the incestuous relationship between SeaGrant, NCDMF, NCDA&CS and our research universities that is preventing proper resource management. Everyone is scratching each others backs.

No one is minding the cash register while our important stocks are being depleted.
Has anybody ever looked at these board members. Loaded up with SeaGrant, NCDMF and NCDA&CS.
Mikki Sager is interesting- Conservation Fund.
http://www.conservationfund.org/our-experts/mikki-sager

Does Mikki have a clue that she's supporting unsustainable gear and practices? Does she understand the issues associated with bycatch?
Maybe she doesn't understand what NC Catch really supports. Send her an email and let her know- msager@conservationfund.org
Ann Simpson is interesting also- http://ncseagrant.ncsu.edu/about-us/advisory-board/ann-cary-simpson/

"Simpson served in communications and fundraising positions with the U.S. Fish and Wildlife Service, The Nature Conservancy, N.C. Environmental Defense Fund, the national Wetlands America program of Ducks Unlimited and UNC-TV. She currently serves on the board of the N.C. Coastal Land Trust."
What in the world does a nice lady like Ann with all those stellar credentials not understand about unsustainable catch.
Please help her understand- acsimpson944@gmail.com
Here goes the "farm" crowd thinking unsustainable wild-caught gathering is farming.
I'm sure John Day is a nice guy at NCSU- http://cefs.ncsu.edu/about-us/contacts/ but shrimping just ain't farming...unless those guys think bycatch should be regulated as "agricultural waste" under the Clean Water Act.

John probably needs a better understanding of the bycatch issue- jdday@ncsu.edu
Don't waste you're time trying to reach John Aydlett. He's busy going to meetings speaking against the petition and running a highly successful real estate business all while being employed by NCDA & CS. You can try him here
john.aydlett@ncagr.gov
but I'd probably go here instead-
Joe.Sanderson@ncagr.gov
or Call Commissioner Troxler at (919) 707-3021 or email
steve.troxler@ncagr.gov
You can find other emails in this link. You should really google some of those names. You just might have business relations with one or two of them.
http://www.nccatch.org/pages/our-board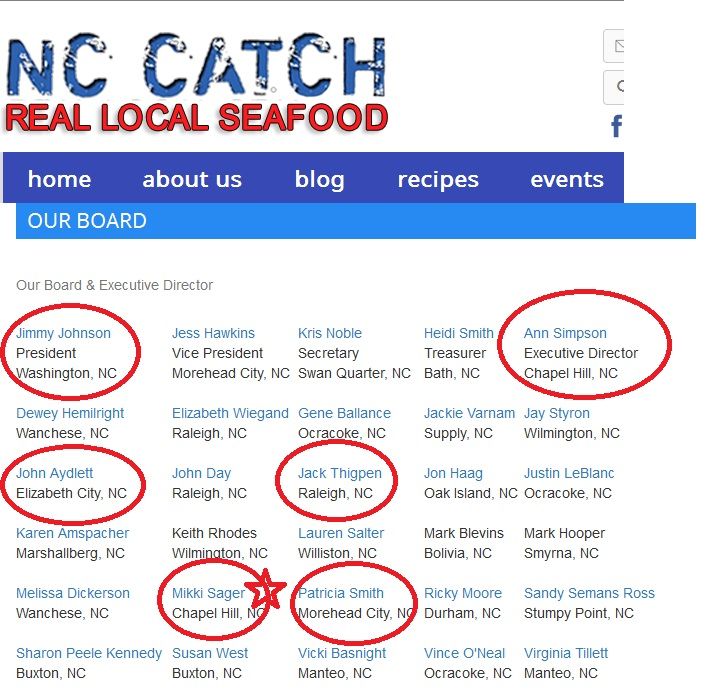 More evidence of the incestuous relationship between those who should be monitoring and those being regulated and those that should just focus on their own area of employment within state government.

Why are members of executive branch agencies actively fighting/lobbying against much needed change being considered by an executive branch commission?


Edited by Rick - 18 June 2017 at 3:16am